Fun Things To Do at Jordan Lake in Pittsboro NC
Posted by Stephanie + Ryan Ford on Thursday, June 22, 2023 at 11:52:08 AM
By Stephanie + Ryan Ford / June 22, 2023
Comment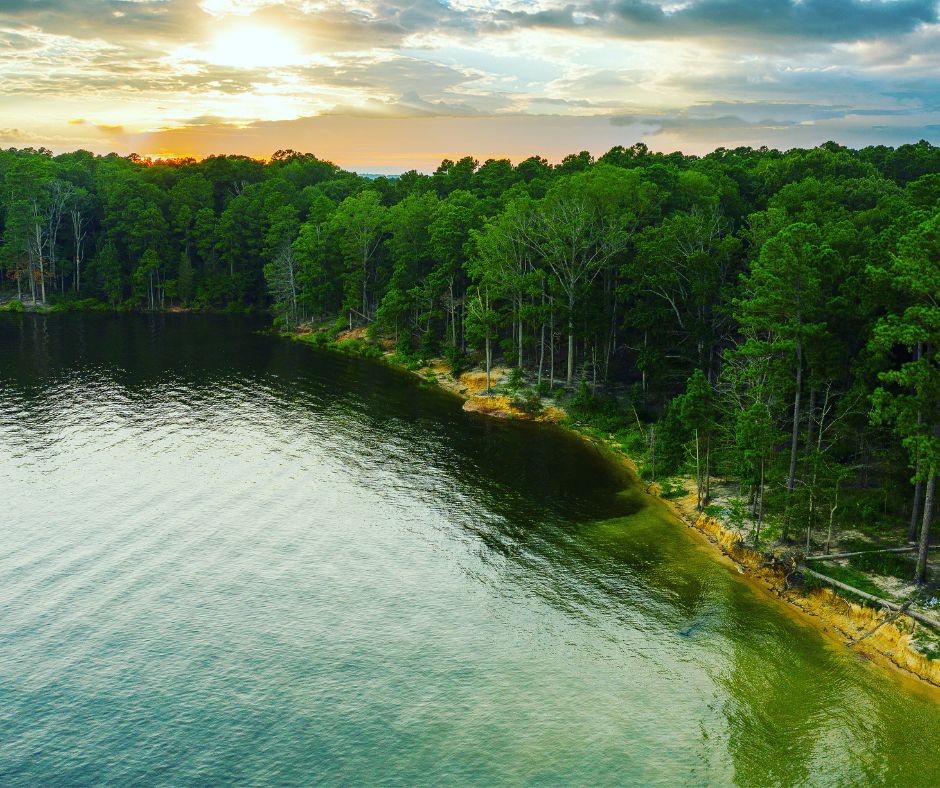 Welcome to Jordan Lake, a picturesque 13,000 acre man-made lake nestled in the heart of North Carolina in Pittsboro. With its lush surroundings and an array of recreational opportunities, Jordan Lake is the perfect destination for outdoor enthusiasts and nature lovers. Whether you enjoy water sports, wildlife encounters, beach relaxation, or camping adventures, this article will guide you through the fun activities awaiting you at Jordan Lake.
Enjoy Water Sports and Recreation
Jordan Lake offers a playground for water sports enthusiasts. Grab a kayak or canoe and paddle through the calm waters, exploring the hidden coves and serene inlets. For a unique experience, try stand-up paddleboarding, testing your balance as you glide across the lake's surface. Fishing enthusiasts will delight in the variety of fish species available, while boaters can embark on a leisurely pontoon cruise or exhilarating water skiing adventures.
Explore Nature and Wildlife
Immerse yourself in the natural beauty of Jordan Lake by exploring its scenic hiking trails. Trek through the lush forests, discovering hidden gems and breathtaking vistas along the way. Birdwatching enthusiasts will be thrilled by the diverse avian population that calls the lake home. Bring your binoculars and spot elegant herons, majestic bald eagles, and colorful songbirds. Wildlife photographers will find ample opportunities to capture the grace and charm of the resident animals, from deer and foxes to turtles and raccoons. And don't forget to visit the Jordan Lake Educational Forest!
Relax on the Beaches
Unwind and soak up the sun on the sandy beaches of Jordan Lake. Spread out your towel, indulge in a picnic, and enjoy a leisurely day by the water's edge. Take refreshing dips in the lake's waters, perfect for swimming and cooling off on hot summer days. Engage in friendly beach volleyball matches or build sandcastles with your loved ones. The beaches of Jordan Lake offer a tranquil escape where you can reconnect with nature and create lasting memories.
Camping and Outdoor Adventures
For those seeking a closer connection to nature, Jordan Lake provides an abundance of camping opportunities. Set up your tent or park your RV at one of the well-equipped campgrounds, allowing you to spend more time surrounded by the serene beauty of the lake. Embark on nature walks, where you can discover hidden trails, observe local flora and fauna, and even participate in guided tours that showcase the area's rich biodiversity. As night falls, gather around a crackling campfire, sharing stories and marveling at the starry sky above. Find a campsite at Jordan Lake.
Jordan Lake is a treasure trove of outdoor fun and natural beauty. Whether you choose to indulge in water sports and recreation, explore the diverse wildlife, relax on the sandy beaches, or embark on camping adventures, Jordan Lake offers something for everyone. So, pack your gear, gather your loved ones, and embark on a memorable journey filled with thrilling experiences and tranquil moments at Jordan Lake. Let the wonders of this picturesque destination ignite your sense of adventure and create cherished memories that will last a lifetime.