Chapel Hill Real Estate
Chapel Hill Homes & Condos For Sale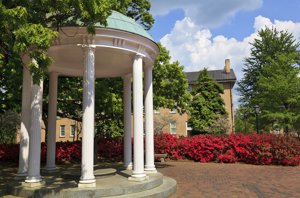 View Chapel Hill Homes for Sale on the Interactive Chapel Hill Real Estate Map. Triangle Real Estate Journal displays all Chapel Hill real estate listings and homes for sale from the local Triangle MLS. Chapel Hill has a diverse blend of single family detached homes, condos, and town homes. Home prices in Chapel Hill range from the high $100,000's to the several millions. Whether you are looking to buy a home near UNC or downtown Chapel Hill or in the suburbs you are sure to be delighted. Chapel Hill is very desirable and the community is often featured in national magazines such as Forbes and Fortune.
To search homes by the specific Chapel Hill School High School Area.
Use the big buttons below to start your Chapel Hill property search. The one on the left is for a link to all Chapel Hill homes for sale and the one on the right is the Chapel Hill condo search.
Chapel Hill Information and Highlights
Chapel Hill NC is the home of the University of Chapel Hill (UNC). Chapel Hill features many beautiful neighborhoods, a fantastic school system (one of the best in the state), and many Tar Heel basketball fans.
Franklin Street is the main thoroughfare of Chapel Hill and it borders the north side of UNC Chapel Hill. Many restaurants, bars, cafes, coffee shops, retail stores, and offices line Franklin St.
Chapel Hill is located about 30 minutes from the RDU Airport and to various Research Triangle Park job locations. The prime location and atmosphere makes Chapel Hill one of the nation's premier addresses.
Chapel Hill Real Estate Articles, Relocation & News Information
Chapel Hill Market Reports - View the latest Chapel Hill real estate market report. Updated daily.
Chapel Hill Real Estate Market Update - August 2012 - Read the latest update on the Chapel Hill market and learn more about Chapel Hill home prices and values.
All Active MLS Real Estate Listings For Sale in Chapel Hill:
Click below to view newest listings or create your own custom search of homes for sale in Chapel Hill.